If you are involved in renovating a luxury property, either as a property developer or as a homeowner, you'll understand that there is an importance to putting together an extensive fire safety management plan and protocol. This should include the installation and proper use of fire doors, but you might worry that a fire door looks bulky and cumbersome, possibly not fitting in with the aesthetic of a luxury property. With modern design, materials, and techniques however you can install fire doors at a luxury property that adhere to strict fire safety regulations whilst looking the part. It is important that you choose a fire door supplier that has a history of success in fire doors for luxury properties.
A fire door is quite often the only barrier between a person and a fire within a building. It could be the only thing preventing you from losing your life in a fire, as a solid barrier that prevents the spread of fire and smoke in the immediate aftermath of a fire breaking out in a building. No matter what type of property you have it is important to understand when and why a fire door is required and what it actually means for the safety of inhabitants in that building.
A fire door is built to withstand flames and smoke for up to 30-minutes in most cases – depending on the type of fire door installed. This is important as it allows for separation at the time of a fire, and when used in conjunction with a proper fire safety plan where people know exactly where to go to remain safe in the event of a fire, it can save lives, and save the structure from being destroyed in the fire.
If you do not already have fire doors installed in your home it is not a legal requirement to have them fitted retroactively, although if you do wish to apply additional safety measures to keep your luxury home safe you can install fire doors. Always ensure that the fire doors are built to fit your existing door frames and whenever you go to bed, or leave the house, shut the fire doors. A fire door should never be propped open.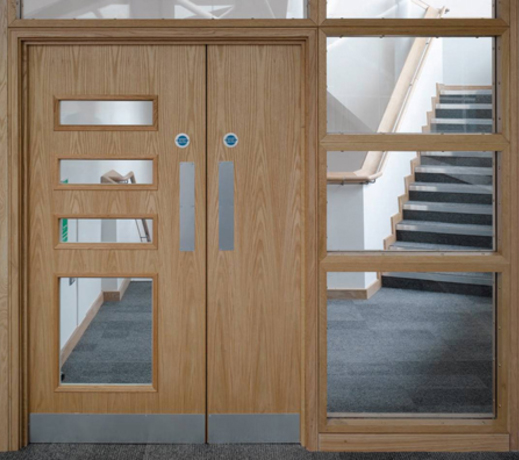 There are certain types of property extensions, conversions and renovations where it is appropriate for fire doors to be installed, but if you are working with an architect they will be able to advise you on whether this is a requirement or not. It usually is if you are renovating a building that has three or more floors, or if there is a door that leads from the main structure to an outbuilding, such as a garage.
If you do require fire doors during a luxury home renovation, or you wish to add an extra layer of security to your existing luxury home, always ensure that you are working with fire door suppliers with a superb track record, a team that understands how important fire safety is in the home.